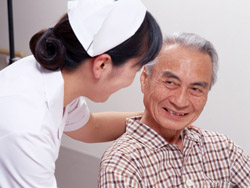 Average yearly salary: $61,000

So, you're in school and interested in a clinical position but not sure which path to take? Year after year nurses make our list of the highest paid jobs with great career outlooks and here's why:

High demand - So high, in fact, that many hospitals and nursing centers are reimbursing nurses for their student loans 100%, offering great benefits and even signup bonuses sometimes, and more. Plus, with such high demand you'll be able to find a nursing position at almost any hospital around the country.

Great Pay - The average salary for a nurse of any kind (and there are many different types of nurses depending on how much time you're willing to spend in school) is just about $30 per hour. Many nurses earn overtime as well, which can add up to many thousands more per year. Although there are careers that certainly pay more, we've made nursing number 10 on our list because of the outstanding opportunity and career outlook.

The ability to make a difference - Nurses save lives, plain and simple. It's a position that, although often stressful, can provide a sense of satisfaction that simply can't be replicated sitting at a desk. It's an important job and often ranks highly in terms of employee satisfaction and happiness.

Next: Our 9th highest paying job for 2013.