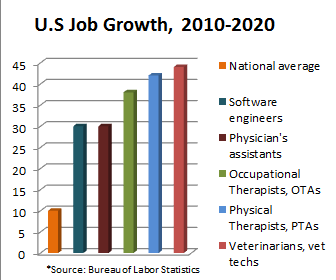 Despite the slow economy, the job market still has quite a few available careers in demand that are seeing tremendous growth. The unemployment rate has dropped to it's lowest point in years, and after a long hibernation workers around the country are starting to poke their head out to discover what jobs are available.

Almost half of the jobs that employers posted in 2012 were open for more than 2 months, and employers are experiencing a shortage of qualified candidates applying for jobs in several different areas. We'll explore those opportunities in this article that covers careers in demand for 2013 and beyond. Instead of covering individual positions, we've tried to group careers into like areas to give a better picture of where help is needed, and which areas students could focus on to ensure a high probability of employment in their study area after graduation.

Ready to get started? Continue to our list of 5 Careers in Demand for 2013.